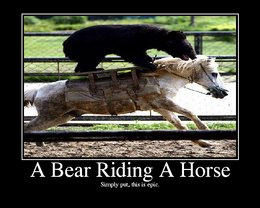 Bears Rough Riders is a Red Dead Redemption posse.
About the posse
The Rough Riders are a laid-back group of people. We enjoy fighting other posse's and travelling everywhere.
Joining the posse
We have a few requirements if you wanna ride with us.
1st. We hate yelling, of any kind!
2nd. We don't play all the time maybe a few times a week.
3rd. No Rambo gentlemen, you ride with the posse unless we get attacked.
4th. Age isn't a problem, anyone can join if they can take an order or two and not whine.
5th. Any questions drop a line to x865x BEAR on xbox
Members
Leaders
Other members
Sith Venator
Member 2
Member 3 etc.
External links
Ad blocker interference detected!
Wikia is a free-to-use site that makes money from advertising. We have a modified experience for viewers using ad blockers

Wikia is not accessible if you've made further modifications. Remove the custom ad blocker rule(s) and the page will load as expected.