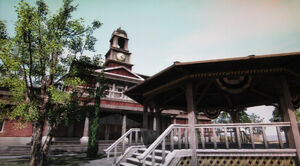 Blackwater Grims is a Red Dead Redemption posse.
About the posse
-- The Legendary Blackwater butcher gang lurks here Who are infamously known as the "Grims" - They are known as a kidnapping, cannibalistic gang. Their hideout is said to be right outside of Blackwater in the hill farms, and some of the gang is even employed in Blackwater. Be warned of these violent, sadistic savages because they don't take kind to outlanders.--
Joining the posse
-- If you come across Blackwater or One of the "Grims" just ask them how to get in, They will most likely kill you then eat you. But theres always the chance they'll be leaning towards lettin' ya live - Message Nosferatu323 on the 360 For more info --
Members
Leaders
Charlie "Black Death"
Carmelo "Salem"
The two are hardly ever seen. The last they were seen by locals dragging a lady out of the Blackwater Saloon and they weren't seen again.
Other members
Dakota Lynch
Jimmy "The Ghoul"
Jordan "Joker"
Many others who's names remain unknown.
External links