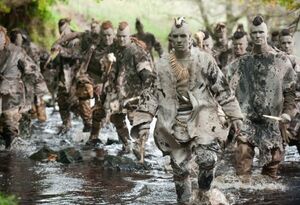 Blue Seal People is a Red Dead Redemption posse.
About the posse
We are guns for hire, mercenaries, bounty hunters, outlaws, bank robbers and anything else you can think of. Will even shoot you even if you look at us funny. Our weapons of choice are all of them and any of them. And we are xbox all the way.
Joining the posse
To join our posse you have to sing the alphat while doing a cossacks dance while deciphering an egyptian table in porchagese while juggling tomahawks with your feet.
Members
Leaders
Leader 1 darklord692
Leader 2 Foxfighter
Other members
Member 1
Member 2
Member 3 etc.
External links
Ad blocker interference detected!
Wikia is a free-to-use site that makes money from advertising. We have a modified experience for viewers using ad blockers

Wikia is not accessible if you've made further modifications. Remove the custom ad blocker rule(s) and the page will load as expected.