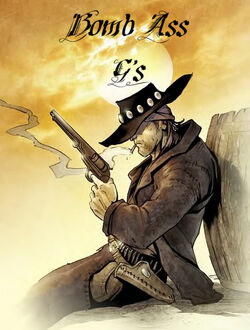 Bomb ass G's is a Red Dead Redemption posse.
About the posse
Plain and simple we're G's!!!
Our mission: To be on top of the world
Our base: El Pesidio, Mexico
Our Motto: "The world, chico, and everything in it. "- Tony Montana
Our code of conduct: None
Current news about posse
None
Joining the posse
character must be black or mexican or a gang member. (ie; bollard gang ,dutch's gang.)
title can not be gang leader gang lieutenant or gang boss and title must be outlaw, bandito or any other variation
must be at least a level 10
no whiny b****s!!!
must know how to do a drive by
must have headset
no little kids. 13 and up
Oh yeah you have to be a G!
To join add me on the ps3 and say that you are looking to join our gang. online id: sanesteban
(will not add if not specified that you want to join the gang)
Members
Leaders
Leader 1: sanesteban
Leader 2: Mar-Dizzle123
Other members
Member 1:madgunsman
Member 2:BO-DIZZLE456
Member 3 etc.
External links
Ad blocker interference detected!
Wikia is a free-to-use site that makes money from advertising. We have a modified experience for viewers using ad blockers

Wikia is not accessible if you've made further modifications. Remove the custom ad blocker rule(s) and the page will load as expected.