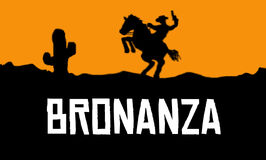 Bronanza is a Red Dead Redemption posse.
About the posse
Bronanza is a group of bros gathered together to play RDR. We've gotten a little more tight-knit, as we recently closed the steam group. Now, to join, you have to be willing to check into the IRC fairly frequently, or at least just not join and forget about us. We aren't PS3 or 360 exclusive, everyone is welcome.
Joining the posse
Go to the page linked and click on the "Guide to IRC" link on the right. Read it, and if you don't already have an IRC client, get one. Get in the IRC, and tell us what you're about. We'll have people playing with you in no time.
Members
Leaders
None designated.
Other members
Too many to type in.
External links
Ad blocker interference detected!
Wikia is a free-to-use site that makes money from advertising. We have a modified experience for viewers using ad blockers

Wikia is not accessible if you've made further modifications. Remove the custom ad blocker rule(s) and the page will load as expected.