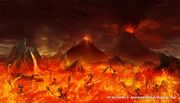 Brothers Of Hell (PSN) is a Red Dead Redemption posse.
About the posse
The Brothers of Hell posse creates hell for towns and former Brothers in arms IMPORTANT when in the posse JoKeRZ619 ONLY PLAYS AS RED HARLOW GOOD LUCK!
Joining the posse
Message me that you want to join and add me but to join you need to complete Tesoro Azul in under 6 mins and 30 seconds or don't die in Tesoro Azul
Members
Leaders
Leader 1 JoKeRZ619
Leader 2
Other members
Member 1 Slick102
Member 2Tedbear56
Member 3 SG17OMEGAJACK
Member 4
External links
Ad blocker interference detected!
Wikia is a free-to-use site that makes money from advertising. We have a modified experience for viewers using ad blockers

Wikia is not accessible if you've made further modifications. Remove the custom ad blocker rule(s) and the page will load as expected.