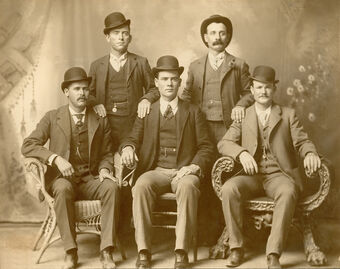 Butch Cassidy's Wild Bunch is a Red Dead Redemption posse.
About the posse
We take the Law into our own hands. We do Gang Hideouts, Destroy other Gangs, Fight the Law and Army.
Xbox 360 only.
Joining the posse
Contact me either through Xbox Live (Gamertag: BloodySatyr) or message me on my page: User:R-Parker
You must: be at Least 16 Years Old, Have a Xbox 360, Work as a team, Be Loyal, be a good Gunslinger and a Competitive Team Player.
Members
Leaders
Leader - BloodySatyr - Butch Cassidy (Me)
Co-Leader - RedHunter93 - Sundance Kid
Other members
Donkey Kong 024 - Kid Curry
Boba501 - Tall Texan
Sgt Navigator
External links
Ad blocker interference detected!
Wikia is a free-to-use site that makes money from advertising. We have a modified experience for viewers using ad blockers

Wikia is not accessible if you've made further modifications. Remove the custom ad blocker rule(s) and the page will load as expected.