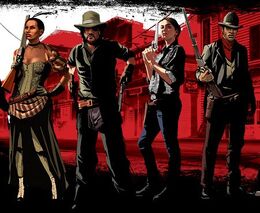 Chronic Masturbasers is a PSN Red Dead Redemption posse.
About the posse
We are a posse that enjoys trying ridiculous things (Killing bears and cougars with knives/fists). we also don't take shit from other players that kill us, so watch your step. We also do power-leveling from time to time at Tesero Azul.
We also have a fight club which doesn't have a regular schedule, just sort of a SPUR of the moment (Good god, my eyes are bleeding from that pun)
Joining the posse
1.Have a PS3(Duh) 2.You must be over 15 (Except for Hero, he's an exception) 3.You must have a mic 4.You have to be awesome 5.You have to enjoy having fun, we're not always about doing work
Members
Leaders
Leader 1 HeroOfTheNow (Founder)
Leader 2 D3lta38-US
Other members
Member 1 Ilikepiepwns
Member 2 Kurt_Cobain64
Member 3 grohldave
Member 4 CanoGuy
Member 5 YOU!
External links
Ad blocker interference detected!
Wikia is a free-to-use site that makes money from advertising. We have a modified experience for viewers using ad blockers

Wikia is not accessible if you've made further modifications. Remove the custom ad blocker rule(s) and the page will load as expected.