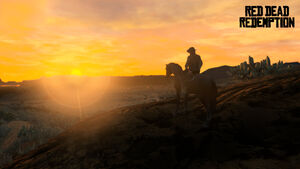 Clarke's Crew is a Red Dead Redemption posse.
About the posse
Clarke's Crew is a group of Men/Women who are just out to make money. They are generally lawful, but in desperate times they sometimes resort to illegal activities. Clarke's Crew (CC) are generally known as a good group for protection, and for hunting. They spend most of their time hunting birds and animals. The gang is very careful about who stays in the Group. It is a great place for new players to start, you will get lots of practice and its fairly easy, but if you dont fit in, you're out. All the members of CC are defined by a specific nickname and description, so people will hear of you.
Joining the posse
-Must have Playstation Network (PS3)
-Must have a PS3 Headset
-Must be at least average with Rifles and Revolvers
-Send a Message to ClarkerInst on Playstation Network (PSN)
-Must prefer lawful activities to unlawful
Members
-ClarkerInst
Leaders
Other members
Ad blocker interference detected!
Wikia is a free-to-use site that makes money from advertising. We have a modified experience for viewers using ad blockers

Wikia is not accessible if you've made further modifications. Remove the custom ad blocker rule(s) and the page will load as expected.