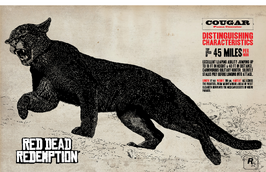 Cochinay Cougars is a Red Dead Redemption posse.
About the posse
This clan was made to help players of any level. Need a gold gun? Or maybe want to level up? This is mainly for teen players. Our hideout is Cochinay, Talltrees. We will always give smaller leveled people our mounts. Every posse member has a tent in Cochinay. This is a posse of respect... if they break you we break them. Contact stripersonline for more info.
Joining the posse
Contact stripersonline ( it says stripe jeez) (psn)Send me your level. You must be willing to respect the players above and below you, and be able to help your fellow members. In other words if someone helps you, you must help them. You will not be kicked if you are active and respectful. Any teen can join, but PLEASE have a mic.
Members
Leaders
stripersonline
squirrel_girl3
blakeb2710
sekond
Other members
salorpluto
faithy143
tailngun
ashley_1993_love
External links
Ad blocker interference detected!
Wikia is a free-to-use site that makes money from advertising. We have a modified experience for viewers using ad blockers

Wikia is not accessible if you've made further modifications. Remove the custom ad blocker rule(s) and the page will load as expected.