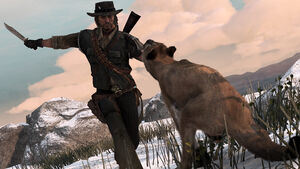 Coyote Frands is a Red Dead Redemption posse.
About the posse
Coyote Frands is a posse/clan that respects the coyotes of Ded Dead Redemption. We are not really a very serious clan just some people that like to play free roam and occasionaly gang matches.
Joining the posse
Message the leader to join the posse/clan. Also, you must have an Xbox 360 with Xbox LIVE capabilities and be able to speak english.
Leader
XxMr BuBbl3sxX
Members
PurplePandaify iiUnFoRgiiVeN XxNarwhal4934xX iiAtoMiicZ
External links
Ad blocker interference detected!
Wikia is a free-to-use site that makes money from advertising. We have a modified experience for viewers using ad blockers

Wikia is not accessible if you've made further modifications. Remove the custom ad blocker rule(s) and the page will load as expected.