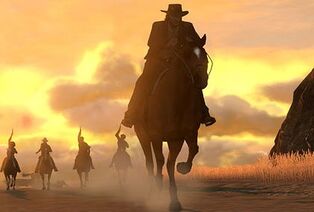 Crimson Buckshot is a Red Dead Redemption posse.
Mission Statement
Crimson Buckshot is a group of tightly organized Mercenaries throughout the RDR Multiplayer Free - Roam. We believe in a peaceful game environment that everybody can enjoy, and we are willing to take this belief to the grave. We enforce this belief by systematically targeting and relentlessly pursuing the many annoyances that players encounter in the Free - Roam world. We also have many services that we can provide, as listed below. The best part: they're all Free!
Services
Are you working on a Gang Hideout, but keep getting interrupted by another Posse or Player? Send us a shout and we will be there for you in no time!
Did you and your low-level friends just beat Gaptooth Breach? Need some help protecting the Stagecoach from other Players? Send us a message, you have nothing to lose!
This is a service that is exclusive to our organization. Weapon Farming is the act of purposefully farming a player for their weapons, with the intention of using them to protect yourself. All you have to do is ask!
Joining the Best
To join the Crimson Buckshot, send a message to our Leader's XBL Gamertag, An Effin Pickle. We will then send you a confirmation message with the time and date to meet us in the Free - Roam match. From there, we will state our Code of Conduct and give you a Trial. A Trial is a test to see if you are good enough to actually join our organization. These could range anywhere from simply finding flowers to surviving 3 Rounds against Cougars at Tanner's Reach, or even dodging cannon fire at El Presidio.
Locations
Headquarters: Blackwater Hotel/Saloon.
New Austin Outposts: MacFarlane's Ranch Sheriff's Office/ Armadillo Bank.
Nuevo Paraiso Outpost: Torquemada/El Matadero.
Leaders
An Effin Pickle (Main Leader's XBL Gamertag.)
SpanglySundew8
Field Operatives
jnaty
Iceman Evans
Ikoojr
x Al Capone x
Tweddyda Chump
gun stalker42
Alyx Awesome
Arizona Kirby
EnemyNiko belic
XxCHRIS001xX
xII Joker xII
WrathfulLuke
Possibly You!
External links
Ad blocker interference detected!
Wikia is a free-to-use site that makes money from advertising. We have a modified experience for viewers using ad blockers

Wikia is not accessible if you've made further modifications. Remove the custom ad blocker rule(s) and the page will load as expected.