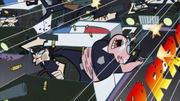 Daten City Police Department is a Red Dead Redemption posse.
About the posse
We shoot like jackasses and still make progress.
Joining the posse
Don't be an ass and we might let you in.
Members
crazyricanking ixwing azure kage spartanzh117 xalrun ghost commanded Laygon0 Mr.Maliwan
Leaders
External links
Ad blocker interference detected!
Wikia is a free-to-use site that makes money from advertising. We have a modified experience for viewers using ad blockers

Wikia is not accessible if you've made further modifications. Remove the custom ad blocker rule(s) and the page will load as expected.