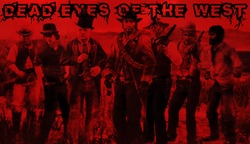 Dead Eyes of the West is a Red Dead Redemption posse.
About the posse
We will kill other posses, mess around, or just kill every other thing --> We will have battles with other posses, control the server, or anything else that we want to do, such as shoot our own horses in the face. Please see our Home Blog
Joining the posse
Send me, MistahSnipah, a message on Playstation 3-->Send me, MistahSnipah, a message on the Playstation Network with the title "DEOTW" in order to join. Please be over level 15 and swear to our rules and conditions found on our home blog.
Members
Leaders
Leader 1 MistahSnipah
Leader 2
Other members
Member 1 WHITE_BOLT
Member 2
Member 3
External links
Ad blocker interference detected!
Wikia is a free-to-use site that makes money from advertising. We have a modified experience for viewers using ad blockers

Wikia is not accessible if you've made further modifications. Remove the custom ad blocker rule(s) and the page will load as expected.