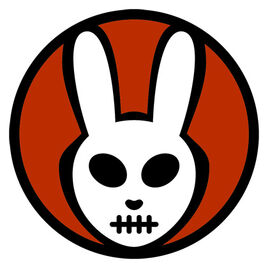 Dead Rabbits is a Red Dead Redemption posse.
Federal File: Dead Rabbits Gang
They ride on Xbox 360. They are the Dead Rabbits.
Outlaws constantly at war with the U.S. government. Their Warlord's failed assassination attempt against a government official sent him fleeing to Mexican amnesty. He now leads raids against northern New Austin law and army. He commands a ruthless outfit, who will not hesitate to eliminate all other public enemies who threaten thier MOST WANTED status.
Posse Wanted For:
Armed Robbery
Assault With A Deadly Weapon
Human Trafficing
Extorion
Conspiracy To Comit Assassination
Murder

BOUNTY:
Hitmen:$500
Capos:$1,000
Warlord:$5,000
The term 'dead rabbit' comes from the Irish de rabbi. Locals thought the terms sounded like dead rabbit, and so the posse was named.
Recruitment
To be considered to join the Dead Rabbits send LupinThe3rd420 a message on Xboxlive with the original term for the Dead Rabbits(about posse).
WANTED: DEAD OR ALIVE
Warlord
LupinThe3rd420
Capos
Lupin420
AxDamien
No FatChicks xX
Hitmen
CBSxDeMon
LT DAEN
External links
Ad blocker interference detected!
Wikia is a free-to-use site that makes money from advertising. We have a modified experience for viewers using ad blockers

Wikia is not accessible if you've made further modifications. Remove the custom ad blocker rule(s) and the page will load as expected.