Ad blocker interference detected!
Wikia is a free-to-use site that makes money from advertising. We have a modified experience for viewers using ad blockers

Wikia is not accessible if you've made further modifications. Remove the custom ad blocker rule(s) and the page will load as expected.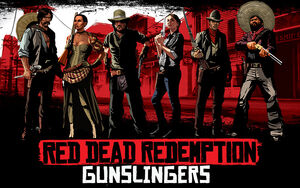 Deadly Gunslingers is a Red Dead Redemption Clan.
Joining the Clan
SEND DG Chief Mangus a message if interested in joining, i will 1v1 you if you get more than 5 kills you will be allowed in the clan, if you get below 5 kills and if we think we can make you better you will go to training camp.
Leaders
DG Chief Mangus
SoulReaver GB
Right hand men
INFANTRY
DG Tummymoose
DG SH4DOW WOLF
D4RK NIGHT98
RustyJediBawlls
TROOPERxMAN
xRSLx BlAcK OuT
CaliRoyal4
WhenForeverEnds
Calvary
Recon
Bounty hunter
Allies