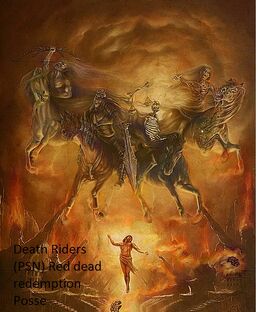 Deaths riders (PSN) is a Red Dead Redemption posse.
About the posse
There once was a prophecy, that Deaths Riders would return to earth in its time of need and... they have returned, they do good when they want and they do bad when they want to. if they are on your back you best be weary. --> It was said in the early ages that the legendary horsemen known as Deaths riders,
would return in earths time of need and now they have returned,
they cause good when they want and they cause bad when they want and
they are deaths collectors they will take your soul to hell, but are you who theyre after?
Joining the posse
Message Starkiller-117 over PSN and put this with the message (MESSAGE FIRST!!)
AGE (need to know how old you are)
Professions (what your good at eg: revolvers)
Horse riding skills (good bad or medium)
Do You Get On With Other People (just incase you start arguing and you prefer being by yourself) -->To join the Deaths riders Posse you have to message me Starkiller-117 (PSN) & Warfare1995 (PSN) and send us these details
AGE
Professions (what your good at)
Horse riding skills (good bad or medium)
Rank on red dead redemption
once you have done this and i have messaged you back saying your accepted i will add you and accept if you still want to join
To train me and warfare will put you in tall trees and you will have to fight off 10 bears with 1 weapon, after that you will have to beat me and warfare in a duel, and then we will go to a gang hideout of your choosing and once done you will have to turn aiming to expert and do another hideout of our choosing and you will have to beat me and warfare in a duel with expert aiming still on, if you beat us... then your ready
Members
Leaders
Leader 1 Starkiller-117
Leader 2 Warfare1995
Other members
Member 1 - black_thunder123
Member 2
Member 3 etc.
External links
N/A For now
Ad blocker interference detected!
Wikia is a free-to-use site that makes money from advertising. We have a modified experience for viewers using ad blockers

Wikia is not accessible if you've made further modifications. Remove the custom ad blocker rule(s) and the page will load as expected.