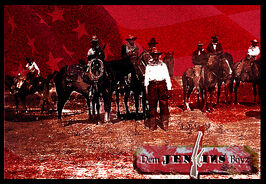 Dem Jenkins Boyz is a Red Dead Redemption posse.
About the posse
After our people were stolen from their homeland and forced to build this country, then subsequently written out of the history books of the west and forgotten on the big screen, Dem Jenkins Boyz had no alternative but to make the world remember.
Joining the posse
Members
Dem Jenkins Boyz are all kin folk. None other can come into the ranks of the brothers. We do however have many cousins that we call on when needed.
Brothers
NatWooDeaDikLuv
Catchm_Claygunn
Cletus_ColeCheez
COMPTON-BOB
Cousins
External links