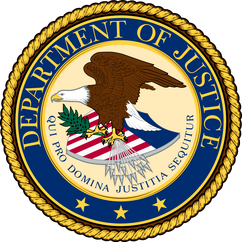 Department of Justice is a Red Dead Redemption posse.
About the posse
We Are the Department of Justice, We Have Many Divisions and these are Criminal Division, Civil Rights Division, Justice Managment Division and National Security Division. We Are an Xbox360 Group and are Law Abiding Any Man Who Wishes to Join Read Below BUT if You Do Not Abide Our Laws You Will Be On our Wanted List.
Joining the posse
To Join Simply Contact Me (UnsafeSnipes) Via Message on Xbox or Message me On this Wiki (Alidj3) and Use the Following Format. Please Note At the Moment I am Accepting Requests For managment.
Name:
Why You Want to Join The DoJ:
What Division You Want to Join:
What Qualties Could You Bring to DoJ:
What Do You Think You Could Do for DoJ:
Members
Leaders
Director UnsafeSnipes
Asst. Director jayjayboss
Director of Criminal Division
Director of Civil Rights Division
Director of Justice Managment Division
Director of National Security Division
Other members
We Will Not Post Our Members Here as We Are Setting up a Forums to Keep us Organised with Everything other than User This Wiki Page.
External links
Ad blocker interference detected!
Wikia is a free-to-use site that makes money from advertising. We have a modified experience for viewers using ad blockers

Wikia is not accessible if you've made further modifications. Remove the custom ad blocker rule(s) and the page will load as expected.