Posse:Deve & The Dirty Seven
Talk

0
Ad blocker interference detected!
Wikia is a free-to-use site that makes money from advertising. We have a modified experience for viewers using ad blockers

Wikia is not accessible if you've made further modifications. Remove the custom ad blocker rule(s) and the page will load as expected.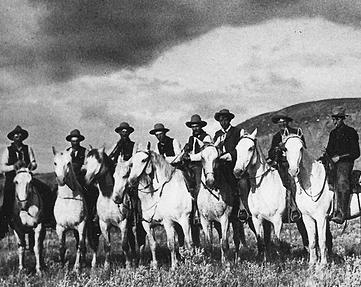 Deve & The Dirty Seven is a Red Dead Redemption posse.
About the posse
Deve & The Dirty Seven are the most ruthless group of outlaws to ever freely roam the area surrounding New Austin. All are considered Public Enemies, but none have ever had a bounty collected upon them.
Joining the posse
To be recruited, you must find and request to join from a member of the posse. You will be required to complete a series of tasks designated by the posse at that time. After completion of your quests, you will further have to defeat a member in a duel. If victorious, entry may be granted. However, we are not recruiting at this time.
Members
Leaders
Daniel "Deve" Lewis - The Legend: The crew mastermind. (iDevei)
Rest of the Posse

Holiday - Public Enemy #1: The right hand man. (HolidayForHire)
Trombley - Master Hunter: Hunter turned outlaw. (rtrombely86)
Chan - Sharpshooter: The disgruntled chinese rail worker with a scoped rifle speciality. (iChani)
Eddie Scrof - The Kid: The young duelist. (eScrof)
Magobloo - Wolf Cryer: The indian tracker. (MGOBLUE)
El Cuti - Bandito: The former mexican rebelde. He garnished his name from his skill with knives. (cuti22)
Moo - Cow Lover: Few know the true tale behind the one they call The Furious Moo, but all fear him. When Moo was a young boy, he grew up on his father's ranch tending the cattle. He loved the cattle, and they in turn loved him. However, one night while on nightwatch, cattle rustlers broke into the barn. Moo tried to stop them, but they simply batted the boy down, and then forced him to watch as they raped and murder his favorite cow, Bessy. They then burned the barn down, and his house where his family still slept. None survived except Moo, and if you asked him, he would tell you that boy died that day too. Consumed with bloodlust, Moo has dedicated his life to hunting down those who perpetrated the sinful acts. However, his quest became his obsession and has begun to cost him his mind. He has been known to murder without reason or remorse. In one instance, he stopped his stagecoach to allow a young woman and her child aboard, and then proceeded to give them a lift all the way from Armadillo to Blackwater. Along the way the wife and child explained how they were going to see the boy's father coming back aboard a steam boat as he'd been gone for many years studying in Europe. Once arriving at Blackwater, Moo let them both out, and then prompty shot them both in the head. (The Furious Moo)
External links