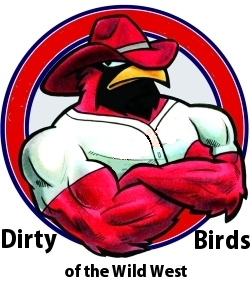 Dirty Birds of the Wild West is a Red Dead Redemption posse.
About the posse
The Dirty Birds of the Wild West was founded on May 30, 1910 at El Presidio fort on the Mexican-New Austin border. The members of the posse originated from different areas of New Austin. The base of operation is El Presidio in North Mexico. The main operations of the posse is killing, hunting, completing challenges, taking out bandit hideouts, and defeating other posses.
Joining the posse
By invitation only.
Leaders
bDUNK73 (Gang Leader, Master Sharpshooter)
Other members
prudaddy23 (Gang Lieutenant)
elavation37 (Mounted Guns Specialist)
DeadliestSaint7 (Hunting Expert)
Ad blocker interference detected!
Wikia is a free-to-use site that makes money from advertising. We have a modified experience for viewers using ad blockers

Wikia is not accessible if you've made further modifications. Remove the custom ad blocker rule(s) and the page will load as expected.