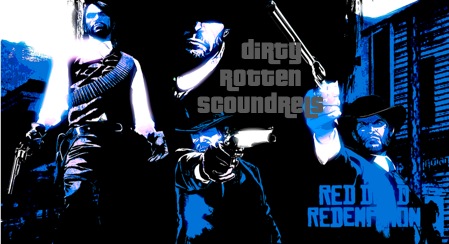 Dirty Rotten Scoundrels is a Red Dead Redemption posse.
About the posse
We are a posse who are not afraid of anything. We're outlaws, and we're ready for a fight. Get in our way, get blasted.
Joining the posse
To join, message WilsonX100 on Xbox360. I am always playing RDR. It doesnt matter what level you are, as long as youre ready for anything, and always ready for a fight and ready to sabotage other posses.
Members
Leaders
Leader 1 WilsonX100
Leader 2 Eaglesfan122321
Other members
Member 1 THEBANNONCANNON
Member 2 Choc0late Thuda
Member 3 xC4xMANx
External links
Ad blocker interference detected!
Wikia is a free-to-use site that makes money from advertising. We have a modified experience for viewers using ad blockers

Wikia is not accessible if you've made further modifications. Remove the custom ad blocker rule(s) and the page will load as expected.