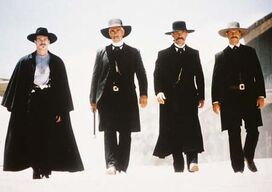 El Lobo is a Red Dead Redemption posse.
About the posse
Like the wolf we roam in our pack and our only goal is survival. No motherland No morals No mercy. Our only loyalty is each other and no job is dirty.
Joining the posse
Find either leader and message him. *website will be available soon*
Members
Leaders
Nomercy0437 PSN
CB5286 PSN
Other members
External links
Ad blocker interference detected!
Wikia is a free-to-use site that makes money from advertising. We have a modified experience for viewers using ad blockers

Wikia is not accessible if you've made further modifications. Remove the custom ad blocker rule(s) and the page will load as expected.