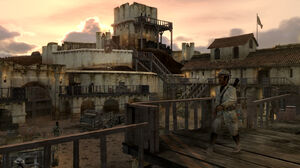 El Presidio attackers (PSN) is a Red Dead Redemption posse.
About the posse
Just a new posse that is based on El Presidio. We storm this place and use the cannons to kill any soldier reinforcements. Other activities are: Co-op missions Undead missions(But not required) Gang hideouts Storming Escalera, Chuparosa, Blackwater, Armadillo, etc. Battling other posses.
Joining the posse
Just message me (Thesilva3). Everyone can join.
Members
Leaders
Other members
Member 1 (available)
Member 2 (available)
Member 3 (available)