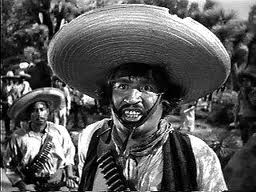 El burro gringo is a Red Dead Redemption posse.
About the posse
We ride as men craving tequila y las mujeres HAHAHHA. Ellos son banditos con cojones largo.
Joining the posse
Anyone can join in free roam but members must be friends
Appearence
We are full out Mexicans. We're talking bandoliers, sombreros y tequila!
Members
El Presidente
"El Jefe" donstracci123456
Capitánes
"El Gringo" t3abag-sanch0
"El Burro" ishmal_12 (in hiding)
Los Peces Pequeños posible
External links
Ad blocker interference detected!
Wikia is a free-to-use site that makes money from advertising. We have a modified experience for viewers using ad blockers

Wikia is not accessible if you've made further modifications. Remove the custom ad blocker rule(s) and the page will load as expected.