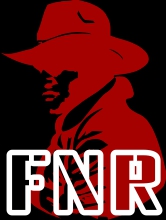 FNR - Friday Night Reddead is a Red Dead Redemption posse.
About the posse
This Posse is a successor of sorts to our old Halo 3 clan, FNH(Friday Night Halo), meaning we play on XBL. As you can probably assume, we mainly play on Fridays, as we are not typically free during the week. This Posse's main focus is completing Gang Hideouts and killing any other Posse in the game.
Joining the posse
Joining is tough as we only play with friends mainly but to join, you will have to go through an initiation process, which will be thought up of soon.
Members
Leaders
Other members
a juicy pillow(to be determined(stupid GT huh?))
External links