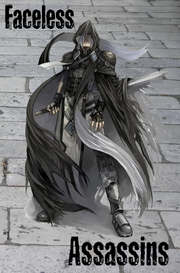 I am a killer; Honor me.
About the posse
The Faceless Assassins are an Xbox 360 based Posse who just play for fun, whilst at the same time being competitive. We don't start fights with people, unless there is a good reason to. If someone shoots at us, we're all going to fire right back. We play as a team which is obviously essential for a Posse to play like.
Joining the posse
To join the Posse you should visit the Red Dead forums which you'll simply require to just fill in an application, and wait for a reply. Remember if you post an application on another Posse's thread, you should decide on where you really want to be beforehand.
Members
Assassin Leader
Jonuhfun - Jon
Right Hand Man
Zabriskie Point - Derek
Left Hand Man
Mercenaries
HeartOfFiire - Tyler
halomike917 - Mike
xxKASTLExx - Richard
Hired Guns
Revalth - Stuart
Elo125 - Jonathan
CWeBB 12 - Chad
usrhlp - Dean
ryan13th95 - Ryan
toyotamr4red - Kevin
Kuggar - Doug
bluedragonjared - Jared
biscuitbadger - Patrick
Freelance7 - Andrew
XERAXES - Amir
Se7enty Dozen - Matt
dreamvision602 - Daniel
External links
http://www.reddead.net/forums/thread-faceless-assassins-recruiting
Ad blocker interference detected!
Wikia is a free-to-use site that makes money from advertising. We have a modified experience for viewers using ad blockers

Wikia is not accessible if you've made further modifications. Remove the custom ad blocker rule(s) and the page will load as expected.