Ad blocker interference detected!
Wikia is a free-to-use site that makes money from advertising. We have a modified experience for viewers using ad blockers

Wikia is not accessible if you've made further modifications. Remove the custom ad blocker rule(s) and the page will load as expected.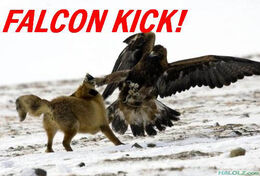 Falcon Claw is a Red Dead Redemption posse.
About the posse
A famous posse sponsored by Armadillo saloon check out our poster inside. We Level up fast and we gain respect from the other players. We are a posse where we treat each other as Family "mess with one of us, you mess with us all"
Joining the posse
Contact MEEKS1 on Xbox live, message saying you want to join, we will then have you take two tests. 1. A test of skill to see if you match the rest of our posse 2. A attitude test so we all get along
Members
Posse Leader
The posse
Horse whisperer Nattzz
Weapons master Fert1
Lawmen Robocop0453
Other members yet to be recruited
External links