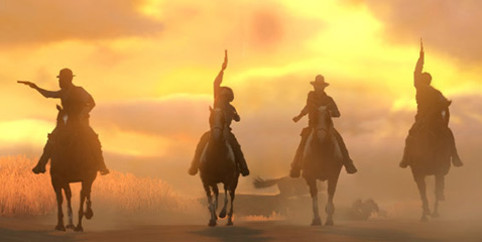 Flat Iron Outlaws is a Red Dead Redemption posse.
About the posse
We are a group of general western Outlaws who base most of their operations out of the towns of Armadillo and Thieves' Landing. Though they are manily hardened and veteran players, most of the members refuse to go into Blackwater, for fear of other gangs having already taken the city.
Joining the posse
To join the posse, the members will usually give the player a certain task, mainly completing a certain challenge that has to do with being a Public Enemy, killing a Public Enemy, robbery, theft, or assassinating a certain player, but if the given task is accomplished, then the player will be admitted into the posse. Another way that a layer can be admitted into the posse is by being an Accomplice. An Accomplice is another word for a new player who observes (from a distance) how to do a certain crime with skill, thus being an Accomplice.
Members
XxCHRIS001xX, captain josh g, ZcraniumVast.
Leaders
Other members
(no other members)
External links
Ad blocker interference detected!
Wikia is a free-to-use site that makes money from advertising. We have a modified experience for viewers using ad blockers

Wikia is not accessible if you've made further modifications. Remove the custom ad blocker rule(s) and the page will load as expected.