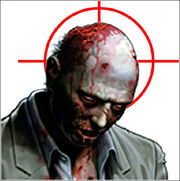 Fraggin' Zombies is a Red Dead Redemption posse.
About the posse
Fraggin' Zombies is an Xbox Clan which is situated across multiple games. We originate from Red Dead Redemption, however and are a professional posse.
Joining the posse
To join the posse, recruits must complete either:
A.) Defeat a posse leader in a Free-For-All Match B.) Team up with other recruits and receive at least three kills on all members of the Head Squad C.) Be recommended by at least 8 members or 2 leaders.
Members
Leaders
Leader: Zamxus. Creator of the Posse and a Max level Player.
Head Squad:
Jared3026
Fatfudger
ZachMetallica
Other members
Ironkiller4971
SGT. Smutmuffin
ThunderColt
Ad blocker interference detected!
Wikia is a free-to-use site that makes money from advertising. We have a modified experience for viewers using ad blockers

Wikia is not accessible if you've made further modifications. Remove the custom ad blocker rule(s) and the page will load as expected.