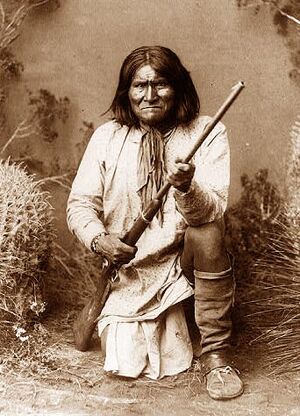 Geronimos Last Warriors is a Geronimos Last Wariors posse.
About the posse
we are a tribe not a clan owner cheif BIG_GUNS77 (Wiseowl) a teacher a mentor a warrior, he has come to RDR to teach the true history of the first americans natives Geronimos Last warriors is a great opportunity for you to learn true history from a real apache we are all about peace until you shooot or cross us then you will be are enemy for life..
Joining the posse
Members
hammbone2 GLW_EAGLESCRATCH karime25 THENAVAJO123 Quanah_Yuzapi632 GLW-LIU_KANG-632 guitarherogranpa JohnMclousky NC_KILLA_KINGZ leaders
BIG_GUNS77 our chief
xbigchiefx
Other members
Member 1
Member 2
Member 3 etc.
External links
Ad blocker interference detected!
Wikia is a free-to-use site that makes money from advertising. We have a modified experience for viewers using ad blockers

Wikia is not accessible if you've made further modifications. Remove the custom ad blocker rule(s) and the page will load as expected.