Ghost Squad is a Red Dead Redemption posse.ONLY FOR XBOX 360.
About Us
ONLY FOR XBOX 360

A online squad that help each other and create training rooms,we like to do gang hideouts (fort mercer and pike basin) and various custom game modes and minigames.
Joining the posse
To enter the posse,you must be LVL.6 and use Jack marston Skin,posse leaders and Assistants must be using MR.Kelly skin,Normal members must be Using the title of tenderfoot or gun shark.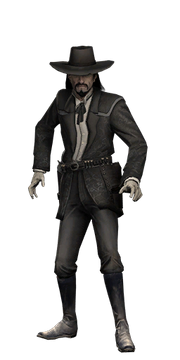 Bases
Our bases are Fort Mercer and Cochinay, Keep doing the fort mercer and Pike's basin hideouts for great amount of XP.
Rules
Dont kill any members
Events are various custom game modes and gang hideouts.
If Ratchetrex is not Online, Redbucyrus will be the temporary Leader.
a Training room for newcomers will be avaible on Private Free Roam and Undead Overrun.
Minigames will be avaible(Tomahawnk Training,Horse Races,Free Roam Posse Races and Posse wars.
Tall tress is our area,Beware of Bears, Pumas and the werewolf!!! (just kidding) ...
The leader of the Posse is Brazilian, as some other MEMBERS but most are Americans.
Members
Leaders
Leader 1=Ratchetrex
Leader 2=Redbucyrus
Other members
Member 1=
Member 2=
Member 3=
Member 4=
Ad blocker interference detected!
Wikia is a free-to-use site that makes money from advertising. We have a modified experience for viewers using ad blockers

Wikia is not accessible if you've made further modifications. Remove the custom ad blocker rule(s) and the page will load as expected.