Ad blocker interference detected!
Wikia is a free-to-use site that makes money from advertising. We have a modified experience for viewers using ad blockers

Wikia is not accessible if you've made further modifications. Remove the custom ad blocker rule(s) and the page will load as expected.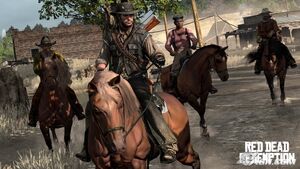 Glorious Bastards is a Red Dead Redemption posse.
About the GB Clan
The Glorious Bastards Clan was formed July 2011. We always endeavour to play by the rules and tend not to entertain the many glitch using clans and people in the game. We are always up for a good battle, usually in free roam but will do game modes also. So if you want to challenge us, contact one of our members and we will be happy to oblige. Thank you for taking the time to come to our site.
Joining the posse
If you want to have anu info and/or you want to join sent GB COCHISE RFC -or- GB JOHNSEN a message
Members
GB Jambo Jones ---&nbsp GB JOHNSEN ---&nbsp GB Swift ---&nbsp GB MEOWCAT ---&nbsp GB REAPER6143 ---&nbsp BlackxMamba GB --- GB B4BiExBoRbZz ---&nbsp GB Kaycee --- GB MARKAZZKICKR ---&nbsp GB HeLiOs XIIV ---&nbsp GB Don Ebon NL ---&nbsp GB X Nemorz X ---&nbsp GB GeRoNiMo ---&nbsp GB WILD BOY ---&nbsp GB Ninja Raiden ---&nbsp GB Milzeeh --- &nbsp GB JIMBOKIDD ---&nbsp GB Professor S ---&nbsp GB 8CH ---&nbsp gb rosswhiteoa ---&nbsp GB Ramie 1973 ---&nbsp GB DOPE BLUD GB --- GB Venom 1690 --- GB RAMBOJD1992 ---&nbsp AJAX GB ---&nbsp GB Sky Black ----&nbsp GB Ninjaz ---&nbsp GB VIKING ---&nbsp Sean Soley GB ----&nbsp GB BULLDOG 68 ---&nbsp GB leogold420 ---&nbsp GB Red Sonia ---&nbsp GB Dr JOINT ---&nbsp GB Star Black ---&nbsp GB Rredlum ---&nbsp GB jpscrase ---&nbsp GB MrsHarlow --- B Tuco RDR ---&nbsp GB Cemetery ---&nbsp GB NitroGirL ---&nbsp GB inhuman DooM ---GB xGeNuInEx
Leaders
GB FAGGOT CFC
External links