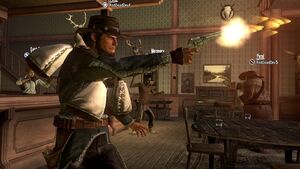 Gunslingers of new austin is a Red Dead Redemption posse.
About the posse
we are a posse of friends.we will let you join as long as you dont kill other players when your bord,and if we get shot at your allowed to kill him/her tell he leaves,the rest of us will help you.(THIS IS ON PS3/PSN)
Joining the posse
NO WHINING,dont have a high pitched voice,dont have echo,dont use voice changer also have a mic,msg Uncle_J_205 to join the posse.(we go on from 2-10 PM Central Time,unless im feeling the need to do an allnighter)
Members
Leaders
Other members
lukiedoux
Poptart-94
Member 3 etc
External links
Ad blocker interference detected!
Wikia is a free-to-use site that makes money from advertising. We have a modified experience for viewers using ad blockers

Wikia is not accessible if you've made further modifications. Remove the custom ad blocker rule(s) and the page will load as expected.