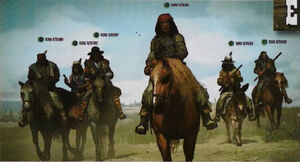 Gunslinging Gang is a Red Dead Redemption posse.
About the posse
We are neutral sometimes we are good sometimes we are bad in my posse you can be anything or anybody marshals,lamen,misc mexicans anybody.
Joining the posse
just send me a message(dawson1272000 ps3)and i will think about it
Members
dawson1272000(ps3)
Leaders
dawson1272000(ps3)
rusty1100
Other members
Member 1
Member 2
Member 3 etc.
External links