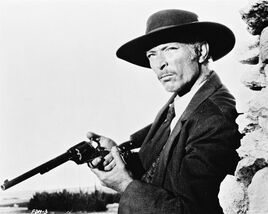 HAZ4 Gunslingers is a Red Dead Redemption posse.
About the posse
The wild west section of Xbox360 Clan "HAZ4".
Joining the posse
To join the clan you must fill out the application form A38. To get application form A38 you first have to fill out the application forms B39 und S04. Before you can get both of these application forms you have to fill out (the green version) of the form U49, available at "Freak im Eimer" after filling out the form G55. To receive the form G55 you only have to fill out form Z47 and hand it out to "Err0rErr0rErr0r". This few steps are necessary to be allowed to play with us. After a probation and filling out application form K57 (available at "Deutschmann, Bordellkeenisch or Mr.Chilong") and application form X187 (available at "Titus Pull0, Arischer Psycho, Taggueg or Yeetai") we will have a voting about you joining us.
Members
Leaders
Freak im Eimer
Err0rErr0rErr0r
Other members
Titus Pull0
Bordellkeenisch
Deutschmann
Taggueg
Arischer Psycho
Mr. Chilong
Yeetai
ibn Schettler
sikici84
External links
Ad blocker interference detected!
Wikia is a free-to-use site that makes money from advertising. We have a modified experience for viewers using ad blockers

Wikia is not accessible if you've made further modifications. Remove the custom ad blocker rule(s) and the page will load as expected.