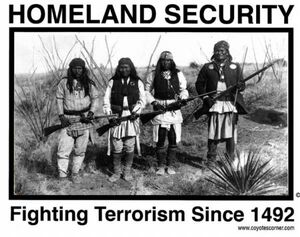 HOME LAND SECURITY is a Red Dead Redemption posse.
About the posse
We are known as HOME LAND SECUIRITY da natives taken over da west. we are all full blooded indians n pround of it to, we dont like make believes, we would like a real native to join us to take back what was once ours. So if ur native like navajo, apache, sioux, etc... join your native brothers. HONKA HAY
Joining the posse
to join us u must have a xbox 360 we play hardcore free roam but if your not good at hardcore we can help you become pro. NO make belives / we dont like fake indian wannabs , u need to be real full blooded indian, messege xEAGLExBEARx
on xbox to join.

Members
I will tell u if u message me
Leaders
Leader 1 xEAGLExBEARx
Leader 2 i willl tell u if ya message me
Other members
Member 1 same as top
Member 2 same as top
Member 3 same as top
External links
Ad blocker interference detected!
Wikia is a free-to-use site that makes money from advertising. We have a modified experience for viewers using ad blockers

Wikia is not accessible if you've made further modifications. Remove the custom ad blocker rule(s) and the page will load as expected.