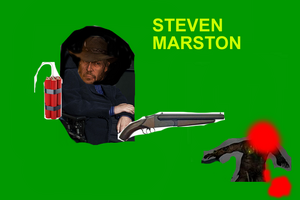 HUNTERS OF THE UNDEAD is a Red Dead Redemption posse.
About the posse
STEVEN MARSTON WAS BORN AS AN INBREAD,HE HAD A RARE DISEASE WHICH FORCED HIM TO TRAVEL THE EARTH IN A WHEELCHAIR.THIS FEARED OUTLAW HAD A PIMPED OUT WHEELCHAIR WITH SHOT GUNS AND DINAMITE COMEING OUT OF LOTS OF DIFFERENT SECRET PLACES HE TOOK OUT ANY THAT STOOD IN HIS WAY
Joining the posse
CONTACT ME AT SCARXPREDATOR@GMAIL.COM
Leaders
SCAR X PREDATOR
Members
CELTIC PR3DATOR
W0LFPREDATOR
BATTLEDEZI21
PIMPEDUPSNAIL
ANCIENTPR3DATOR
SPACEXMARINE123
External links
Ad blocker interference detected!
Wikia is a free-to-use site that makes money from advertising. We have a modified experience for viewers using ad blockers

Wikia is not accessible if you've made further modifications. Remove the custom ad blocker rule(s) and the page will load as expected.