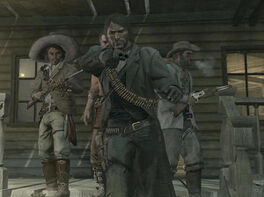 Hardman's Gang is a Red Dead Redemption posse.
About the posse
We are Hardman's Gang, the most feared gang you will ever come across. We are an Xbox live posse. We do things like gang hideouts, battling other posses and players, competative games, holding out from the law and hunting. We only accept people who speak good english into the posse. We all have individual talents and together we are unstoppable! You won't even have time to scream!
Joining the posse
To join the posse is simple, win a 1 vs 1 fist fight with either me or my right hand man. the fight will be at a place of our choice and it will be the first to 5 knockouts (or deaths). Send a message to me(XxGunzMasterzxX) if you want to join the posse.
Leaders
Leader: XxGunzMasterzxX Co-Leader: olis mad
Members
Member 1: Mr red01 Member 2: KnS Wasterman
Rules
You must speak good english
You must have a headset so posse members can communicate
You must NOT kill other posse members without my OK
You must NOT kill other posse members mounts without my OK
You must KICK ASS!!!
External links
Ad blocker interference detected!
Wikia is a free-to-use site that makes money from advertising. We have a modified experience for viewers using ad blockers

Wikia is not accessible if you've made further modifications. Remove the custom ad blocker rule(s) and the page will load as expected.