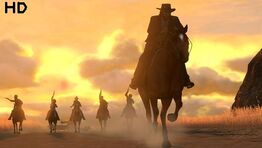 Heinous Deeds (HD)-psn is a Red Dead Redemption posse.
About the posse
HD has saddled up and are riding through the wild west at lighting speeds.... taking scalps, not prisoners... If you see us, ride up and say howdy partner.... that is if yall want your head blown apart by one of our many deadly gunslingers.... otherwise you better turn tail and ride on out of here....
Heinous Deeds fear no man nor beast! We will eat your soul no matter what you are!
See you at the cemetary

-rangerdal -clamatiskatydid -runner709 -leier_jet -MiketheMexican
Joining the posse
It takes a special breed of lowlife to join our posse.... I wouldn't even bother asking
Members
Leaders
rangerdal
clamatiskatydid
Other members
runner709
leier_jet
mikethemexican
External links