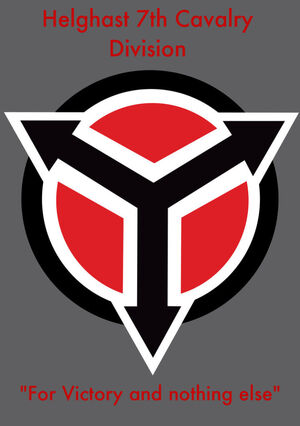 Helghast 7th Cavalry Division is a Red Dead Redemption posse. http://i577.photobucket.com/albums/ss214/thisisme182/HelghanRecruitment.jpg
About the Helghast 7th Cavalry Divison
Hello and Welcome to the Helghast 7th Cavalry Division. Created on 8/31/2010 by the Scolar of the Helghast Empire we are the first Cavalry Division made in the Empire. In this division we try to help others get Acheivments/Trophies, Do missions, Recruit and Other objectives that arise later on. In the Character Selection, Choose only American Soldiers. We hope to see you on the battlefield soldier.
--IMPORTANT NOTICE-- The 7th Cavalry is still up and is still under the Direct Command of the Autarch of the Helghast Empire. Be Grateful to be in his Presence.
Joining the Helghast 7th Cavalry Division
Its quite simple to join. Just send me a message on This wiki, Send me a message on Xbox Live (Gamertag Banana Man FTW)or any other Commanding Officer that has a Live Account or PSN account. Im also on Steam if you have any intrest in any other special units or military Branches in the Helghast Empire (Steam name: TehBlackKnight)
Members
Ranks
1. Field Marshall [FM]
2. Colonel [COL]
3. Major [MAJ]
4. Captain-Officer [CPT]
5. Sergeant [SGT]
6. Corporal [CPL]
7. Private [PVT]
8. Recruit [R]
(The ranks Captain and up have a Age requirment of 15+ for obvious reasons and Leaders of Divisions are limited to the Rank of Field Marshall [FM])
Commanding Officers
Autarch Adder (Gamertag: Banana Man FTW)
Officers(Ranks Captain-Colonel)
N/A
Infantry(Ranks Recruit-Sergeant)
N/A
Becoming a Commanding Officer
To become a commanding officer you must:
Be a good Leader
Shown that you are worthy to the Autarch or CO
In Legend Mode
Must have an Approval over the Troops
All this applies to all except the Autarch.
External links
Ad blocker interference detected!
Wikia is a free-to-use site that makes money from advertising. We have a modified experience for viewers using ad blockers

Wikia is not accessible if you've made further modifications. Remove the custom ad blocker rule(s) and the page will load as expected.