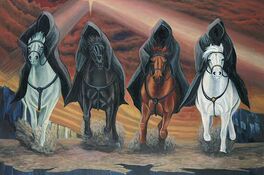 Hell's Riders (PSN) is a Red Dead Redemption posse.
About the posse
"And I looked, and behold a pale horse: and his name that sat on him was Death, and Hell followed with him." Revelation 6:8
Joining the posse
To join this posse contact ferg41268 or pikabot101 through PlayStation Network.
Members
Leaders
Leader 1 ferg41268
Leader 2 pikabot101
Other members
Member 1
Member 2
Member 3
External links