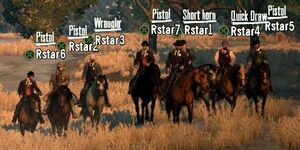 Heros of War is a Red Dead Redemption posse.
About the posse
We basically can be found all over the place, more in Bearclaw Camp, Nekoti Rock, El Presidio, Escalera, Blackwater, Cochinay, Chuparosa, Mcfarlanes Ranch, and Armidillo. We are a group of hard core fighters and hunters. The leaders have went into legend a couple times we are currently trying to figure out the mystery sites meaning in hopes of finding the last buffalo[not a buffalo like the mount but an actual wild buffalo] roaming around somewhere hat no one has ever discovered, we dont even know if this is what the signs and models and sculptures mean but we are just wanting to figure it out. Anyway we just want to have fun but if someone starts something we are the ones to end it. We also do hitman jobs if your having trouble then you can tell us and we will hunt them down and make sure they dont do it again. If we decide to let you join then we will invite you to a private match and send you on a couple special missions[maybe a hunting mission or maybe even gain a $5,000 bounty and escaping alive on a sick horse.] If you prove yourself worthy we will inform you that you made it in. We will also inform you when our next rampage will begin. We are a United Front we stand together and we die together. If one teammate is hurt we are all hurt we dont leave any man behind we are a force to be reckon with, because we are the Heros of War!!!!!!!

Joining the posse
If you want to join the posse, send a voice message to either Chicken Puffle or I2ubber Duckii. The player must be a level 20 minimum. Players will be able to pick if they want to join the sniper squad which I2ubber Duckii will lead and teach the player how to snipe very good, or they can join the ground force which is leaded by Chicken Puffle and I will teach you how to get a headshot almost every time with expert targeting either way we need members. The player has to have either a Red Dead Revolver character or any of the Liars and Cheats characters except for John Marston and Abraham Reyes. If the player doesnt have any of the DLC then they can be a rebeldes. Exceptions can be made. If you are a beginner and your in your single digits we may make an exception and teach you how to fight. We need recruits!!!!!

Members
Leaders
Leader: Chicken Puffle Co Leader: I2ubber Duckii
Other members
Sergeant: hockytown Private: soap mactivish 2
External links
Our Ranking System: Apprentice Sniper, Apprentice Sharp Shooter, Apprentice Hunter[etc.]
Ad blocker interference detected!
Wikia is a free-to-use site that makes money from advertising. We have a modified experience for viewers using ad blockers

Wikia is not accessible if you've made further modifications. Remove the custom ad blocker rule(s) and the page will load as expected.