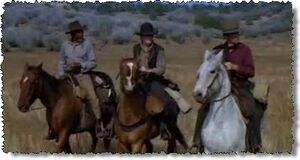 Hunting Party is a Red Dead Redemption posse.
About the posse
This Posse is all for Hunters. Those who wear their bandana's to keep the blood from flying into their mouths when they skin animals. Those who are master hunters and can never be found without bait. We're here to exchange information on animals, hunting strategies, and the best hunting weapons.
Joining the posse
To join you must be at least a level 5 Master Hunter. To join contact countrychris369 via Xbox Live or Chris-the-killer via Wikia
Members
Leaders
Leader 1 Chris-the-killer
Leader 2 (Too become a Leader you must be a Legend of the West)
Other members
Member 1
Member 2
Member 3
Ad blocker interference detected!
Wikia is a free-to-use site that makes money from advertising. We have a modified experience for viewers using ad blockers

Wikia is not accessible if you've made further modifications. Remove the custom ad blocker rule(s) and the page will load as expected.