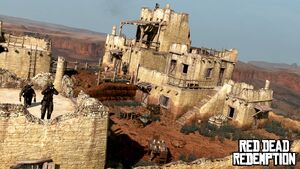 Ice Cold Vengeance is a Red Dead Redemption posse.
About the posse
Ice Cold Vengeance is a posse on Xbox Live. We are currently not accepting any new members. You can probably find us in a public free roam or a poker match. We play gang shootouts occasionally but we are NOT a competetive gang. Whenever we are in a public free roam we make base at Torquemada. Torquemada is our primary base and most battles with other posses occur there.
Joining the posse
We do not recruit anyone but people we know. Regardless of how well we know the person we have an initiation that consists of running around a tree in Tanner's Reach trying not to get mauled by cougars and the occasional bear:)
Members
Leaders
XxXRobbie724XxX(Primary Leader)
xXxBlazinAj42(Secondary Leader)
mikeflash04(Secondary Leader)(K/D:11.5)
Other members
Cj1798
Ravens 524
JonJamGo
RESERVED SPOT
External links
Ad blocker interference detected!
Wikia is a free-to-use site that makes money from advertising. We have a modified experience for viewers using ad blockers

Wikia is not accessible if you've made further modifications. Remove the custom ad blocker rule(s) and the page will load as expected.