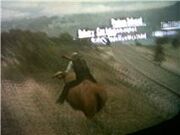 Invincible is a Red Dead Redemption posse.
About the posse
We allow any levels and mounts, we play the original and Undead Nightmare, we have 5 groups you can be in, and 3 hideouts. We allow glitches but don't allow cheaters, we allow headsets but you dont need to have them.
Rules
No cheaters Do not attempt to assult or kill a member or leader Do not shoot until a leader shoots Do not try to spit up the group Do not be seen off task e.c.t
anyone seen doing this will be moved to the L (lame) group or will be automatically be our enemy.
Hideouts
El Predesto
Cotchinay
Torquemada
Joining the posse
MSG Novastart in PS3 and you will be asked to pass a test to see how good you are. You have to do the Twin Rocks hidout under 5 mins and yes you will have a member to help you.
Captain
appledap216 Lakspo6572 Novastart
Scout
haybale006 koland38 kray39639
Soilder
Auusta4537 Hakkop dameit456 yayay4537 Plop4586
Fellow
watsitoya568 cradledadle
Lame
None
External links
Ad blocker interference detected!
Wikia is a free-to-use site that makes money from advertising. We have a modified experience for viewers using ad blockers

Wikia is not accessible if you've made further modifications. Remove the custom ad blocker rule(s) and the page will load as expected.