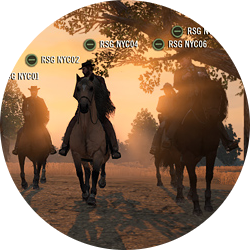 Invincible is a Red Dead Redemption posse.
About the posse
We allow any levels and mounts, we play the original and Undead Nightmare, we have 5 groups you can be in, and 3 hideouts. We allow glitches but don't allow cheaters, we allow headsets but you dont need to have them.
Rules
No cheaters Do not attempt to assult or kill a member or leader Do not shoot until a leader shoots Do not try to spit up the group Do not be seen off task e.c.t
anyone seen doing this will be moved to the L (lame) group or will be automatically be our enemy.
Hideouts
El Predesto
Cotchinay
Torquemada
Joining the posse
MSG Novastart in PS3 and you will be asked to pass a test to see how good you are. You have to do the Twin Rocks hidout under 5 mins and yes you will have a member to help you.
Captain
appledap216 Lakspo6572 Novastart
Scout
haybale006 koland38 kray39639
Soilder
Auusta4537 Hakkop dameit456 yayay4537 Plop4586
Fellow
watsitoya568 cradledadle
Lame
None
External links