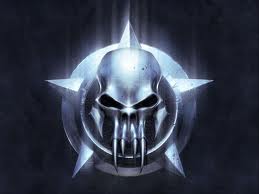 Killers of the night is a Red Dead Redemption posse.
About the posse
This posse was created by will marston the leader of a band of dangarous killers. Will marston was born on mc farlins ranch in the 19th centry he started of and a farm hand. After his master was killed he turned in to an outlaw and fell in with a gang call the knights of the west( made by battledezzi21). After years of killing and robing he made his own posse called the killers of the night. the killers of the night help any one willing to pay. They offer a bounty hutting service and a protection service, the have also been known to do assassinations for more trusted custermers. The posse is the most fered in the land and we will conquer and kill all in our way. LOGO IS THE DARKWATCH LOGO FROM THE GAME DARKWATCH BY HIGH MOON STUDIOS.
Joining the posse
join this posse by emailing me at xkging@gmail.com leve your name and chosen rank with me and I will add you
Leaders
w0lfprdator
celticpr3dator

elite members
commader :ancentpredator
grenral :battledezzi21
major :scarxpredator
kid: spacexmarrine123
External links
Ad blocker interference detected!
Wikia is a free-to-use site that makes money from advertising. We have a modified experience for viewers using ad blockers

Wikia is not accessible if you've made further modifications. Remove the custom ad blocker rule(s) and the page will load as expected.