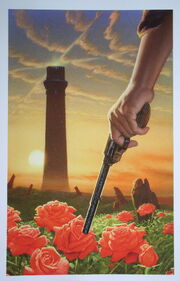 Knights of Gilead is a Red Dead Redemption posse.
About the posse
In short, we are an Xbox Live Counter-Troll posse. We are a small-time, casual posse and a tightly-nit group of friends. The group name is derived from Stephen King's seven book series: The Dark Tower. We storm the country side enforcing justice as Gunslingers. We will hunt down outlaws and any others we deem unfit to live. We will come to the aide of any other player being trolled if asked.
Joining the posse
To be honest, we aren't looking for members, and you most likely wouldn't want to run with us. We don't have time for trolls or other immature players. If however, you are 16 or older, speak perfect English, and have read or are at least reading the Dark Tower Series you may request to join.
Members
Leaders
Other members
Tj Dude 702
Toxic Fat Man
dutchaze.
External links
Ad blocker interference detected!
Wikia is a free-to-use site that makes money from advertising. We have a modified experience for viewers using ad blockers

Wikia is not accessible if you've made further modifications. Remove the custom ad blocker rule(s) and the page will load as expected.