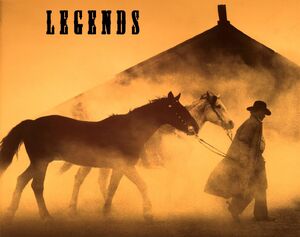 LEGENDS is a Red Dead Redemption posse.
About the posse
This clan was founded on January 3 2012. We are a new PS3 clan, but we have already kicked most of the other clans asses. Our main goal is to have fun and be the best. Many other clans have lost the essence of what it means to play the game and they take it to the next level with bullshit. We roam around Freeroam and play free for all often, usally when bored.
Joining the posse
If you are interested in joining the clan you must contact one of the LEGENDS members.
Requirements
1. You should play Red Dead Redemption often.
2. YOU HAVE TO BE A GOOD PLAYER.
3. No need to have mic, if you do its a plus.
4. If you have a mic, don't be annoying.
5. Know how to have fun, be competitive, and kickass
6. Know how to spell the name.
Rules
1. You do not talk about LEGENDS
2. YOU DO NOT TALK ABOUT LEGENDS
3. Don't be a dick, only FOX and TWIZTED and CrAZyBoy can.
4. Respect your clan members.
5. If you have somthing to say say it PLEASE. This also means no talking behind peoples back thats some pussy DredKush and ROLLITUP shit.
6. If we shoot sombody you are cool with don't take it personal, just tell us or switch rooms.
7. ALWAYS respond to somebody if they need help.
8.You dont hang out with other clans on your LEGENDS Accounts
9. If you are logged on your clan account you should be hanging with your CLAN members, otherwise you can do whatever the fuck you want its your PS3.
10. HAVE SOME MOTHERFUCKING FUN!
THE LEGENDS
                                                   FOUNDER 
                                                
                                                 LEGEND-F_O_X

Leaders
1. LEGEND-CrAZyBoy
2. LEGEND-UNDEAD
3. LEGEND-SueperH
Members
LEGEND-TWIZTED
LEGEND-CRAZYWOLF
LEGEND-JAM
LEGEND-F_O_X
LEGEND-SHIFT
LEGEND-KillaMan
LEGEND-Bradshaw1
LEGEND-BONEZ
LEGEND-ALOPEX
LEGEND-SUBZERO
LEGEND-LEEBM_ERE
LEGEND-D3ADLY
LEGEND-UNKN0WN_
LEGEND-HERO
LEGEND-CHILLZ
LEGEND-CANUCK
LEGEND-REDMAGIC
Wild West Republic
Union_Army
No Mercy List
BADBOYZ
Outtlaws
Untouchable Gunslingers
DirtyG
External links
http://reddeadlegends.weebly.com/
Website under construction.
Ad blocker interference detected!
Wikia is a free-to-use site that makes money from advertising. We have a modified experience for viewers using ad blockers

Wikia is not accessible if you've made further modifications. Remove the custom ad blocker rule(s) and the page will load as expected.