---
"See there's two kinds of people, my friend: Those with loaded guns, and those who dig. You dig."
— The Man with No Name
La Reata (XBL) is a Red Dead Redemption posse.
About the posse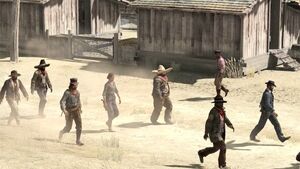 History
We are a group of friends that like to play Red Dead Redemption, someones just for fun, other ones for addiction, but all of us love this Rockstar Masterpiece.
Our headquarters are located in the Blackwater Hotel, but most of our activities are realized in Cholla Springs County, specially in Armadillo.
Joining the posse
Contact any of the leaders in XBL to join us. Our requirements are:
The posse's standard mount is the American Standardbred, but if you have a better mount (such as Bonzo or any Legendary mount) your are free to use it. In case you haven't unlocked the American Standardbred yet, another member of the posse can give you their mount.
Armory
The posses's standard weapons are both the Semi-automatic Pistol and the High Power Pistol, the Bolt Action Rifle and the Semi-auto Shotgun.
Rules
Respect to other nationalities
Betrayal is strictly prohibited: you will not attack or kill any partner on purpose.
No Casual Aim: only Normal and Expert mode
No Glitching or any kind of cheat
Members
Leaders
Field Marshall - Sergio La Reata
General - Tiki 116
Colonel - Rafa181
Colonel - Blondie, Yates
Other members
Navy Captain - Osueka1996
Captain - joseluis 010
Captain - Fireblake
Sergeant - Alberto2796
Sergeant - gualtercarmine9
Private - SoulZone128
Private - Wiccano10
Private - germanWARLORD
Private - scapever
External links
Posse's Youtube Channel http://www.youtube.com/user/SMunozDB7
Ad blocker interference detected!
Wikia is a free-to-use site that makes money from advertising. We have a modified experience for viewers using ad blockers

Wikia is not accessible if you've made further modifications. Remove the custom ad blocker rule(s) and the page will load as expected.